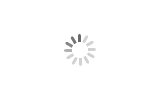 Flexible Agricultural Inflatable PVC Pillow Water Storage Tanks
Brand : Bollison
Product origin : China
Delivery time : 15days
Supply capacity : 20000pcs
Flexible Agricultural Inflatable PVC Pillow Water Storage Tank is suitable for site and large field project where is far away from water source,you can expand collapsible water tank and assembly with water pipe of water source to get water,tank can be folded up and put away until the next usage.
The Life time of Inflatable Water Storage Tank is 8-10 Years and the Warranty of PVC Rain Water Tank and drinking water tank is 3years.
PVC Tank is including :Rainwater Bladder Tanks,Drinking Water Tank, Rain Water Storage Bladders ,Oil&Fuel Bladder Tank,Pillow Bladder Tank,Fire Fight Bladder Tank.
Flexible Agricultural Inflatable PVC Pillow Water Storage Tanks
Flexible Agricultural Irrigation Inflatable Pillow PVC Bladder Water Storage Tank
This Inflatable Water Storage Tank product is made of best quality 0.7mm-1.2mm thickness PVC coating through high frequency heat sealing, which is durable and can be reusable for more than 8 years.
Material

PVC Vinyl Coated Fabric

Color

Blue,Green,Yellow,White,Black,Orange,Red

Thickness

0.7mm, 0.8mm, 0.9mm,1.0mm and 1.2mm

Capacity


300L-1000000L

Temperature Resistant

-30°C~+70°C

Production Process

1. Base fabric high tenacity polyester
2. High-frequency welding or heat sealing

Environmental Standard

6P, 3P, Cadmuim Free, Lead Free, HVSC, PHAs

Packing Included

Tank,acessories,repair kit

Feature

1.Self-supporting and frameless, collapsible when empty

2.Quick to install, minimal site preparations prior to installation.

3.Can fold easily and neatly.

4.Our pillow bladder tanks are constructed using multi-layer, heavy-duty, woven, reinforced, double side coated materials for longevity and sturdiness

5.Fittings location, type and size and can be selected according to your requirements

6.The fabric on the top of the pillow tank always hugs the surface of the contained fluid. The tank continuously adjusts itself to whatever the volume of liquid that is in it. Only a minimal amount of liquid gets direct air exposure. As a result, there is a minimal risk of oxidation, condensation, vapour accumulation in fuel applications and evaporation.

6.Our pillow bladder tanks are made of very high tensile, puncture, tear and abrasion resistant fabric materials

7.Ground sheet included for additional protection against rough surfaces

8. Can be easily folded for easy transportation to your next construction site, ideal for remote locations

9.A safe storage solution

10.Pillow bladders are enclosed with no air exposure

11.All seams are fusion welded using cutting edge welding machines

12.Multiple pillow bladder tanks can be interconnected to form a bladder tank farm. This can achieve any storage volume with provisions for future capacity extensions.
Popular Size and Capacity
| | |
| --- | --- |
| Capacity | Size(M) |
| 300L(0.3M3) | 1x0.8x0.4 |
| 500L(0.5M3) | 1.3x0.8x0.5 |
| 1000L(1M3) | 1.8x1.2x0.5 |
| 2000L(2M3) | 2x1.5x0.7 |
| 3000L(3M3) | 2.5x1.6x0.75 |
| 5000L(5M3) | 3.5x1.9x0.8 |
| 10000L(10M3) | 5x2x1 |
| 150000L(15M3) | 5x3x1 |
| 200000L(20M3) | 5x4x1 |
| 500000L(50M3) | 10x5x1 |
| 1000000L(100M3) | 20x5x1 |
| 2000000L(200M3) | 20x10x1 |
| 5000000L(500M3) | 100x50x1 |
| 10000000L(1000M3) | 200x50x1m |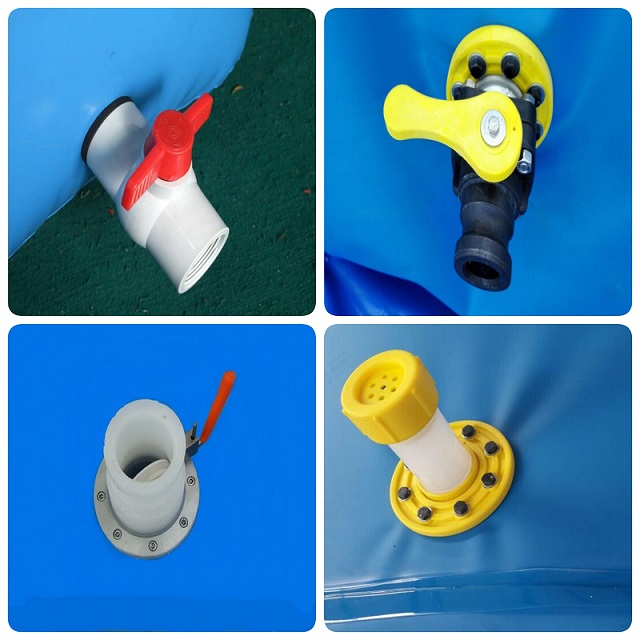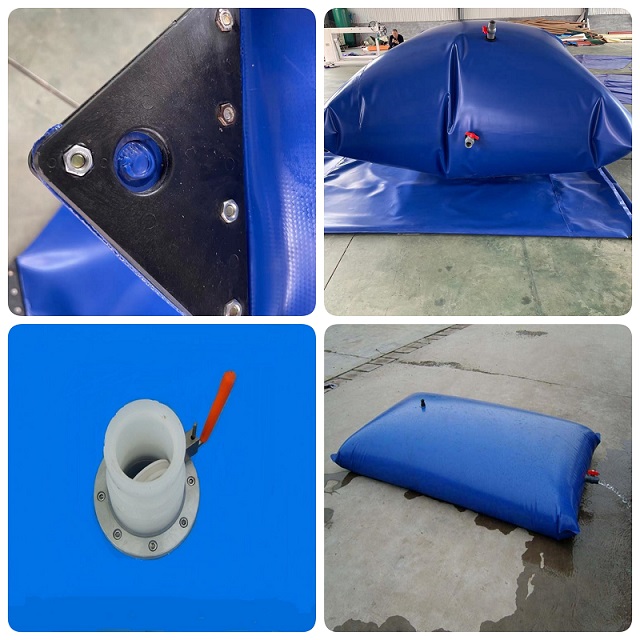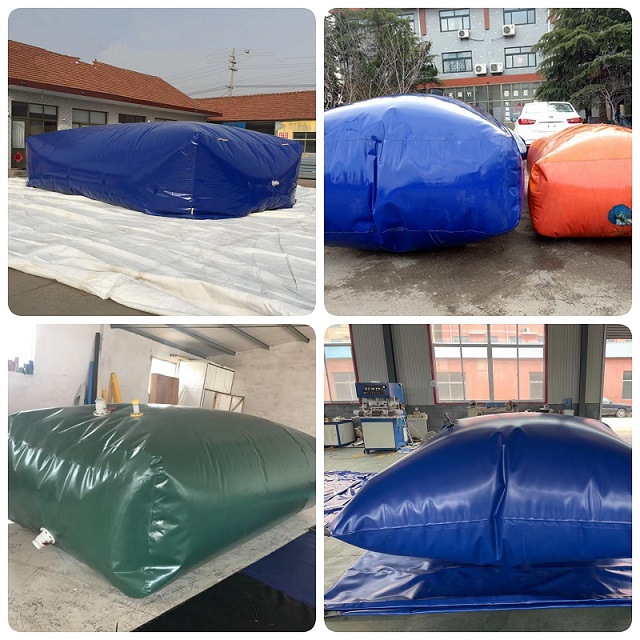 What's the Advantages of Pillow Bladder Tanks for Potable Water and Liquid Storage?
1. Large capacity with light weight;
2. Convenient to use, move and transport;
3. Non-toxic, odorless. Meet food gradestandards;
4. Resist acid/alkali/high and low temperature/UV/aging /rust. No pollution to the stored substance.
5. Excellent pressure resistance and air tightness.
What's the usage of Inflatable Water Storage Tank?
1.Temporary Storage,Storage irrigation water,drinking water,waste water,storage water for fire fighting,animal drinking, washing cars,construction projects.
2. As cleaning water in dessert
3.Residental and public storage of water
4. Defense Water Storage applications
5.Emergency storage and relief
6.Agricultural Irrigation
7. Choose PVC Water tank to test bridge maximum load
8. Fire Fighting in forest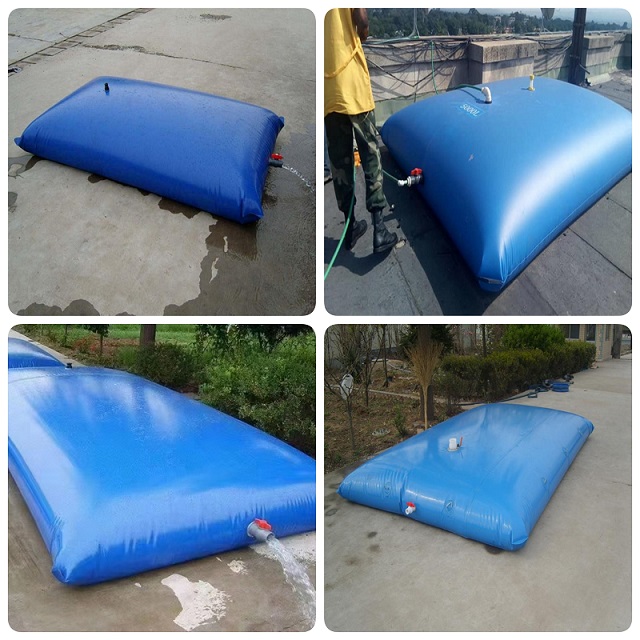 How to pack and ship the inflatable water storage tank?